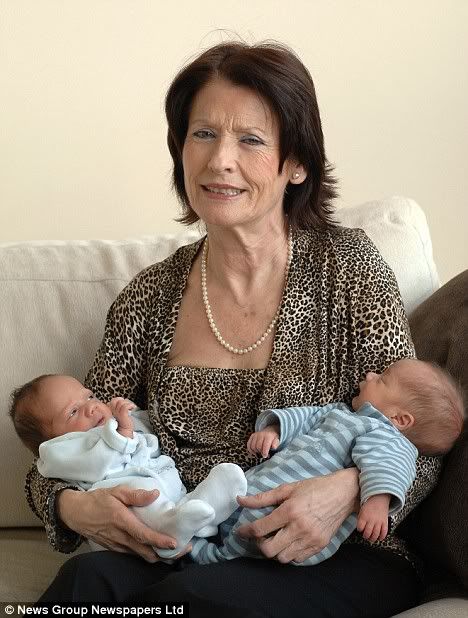 It's been in the news that
the "world's oldest new mom" has just passed away
.
MADRID - She devoted years to caring for her mother, who died at age 101. Then Maria del Carmen Bousada embarked on a quest to become a mom herself. She lied to a California fertility clinic to skirt its age limit, and later pointed to her mother's longevity as a reason to expect she'd be around to care for her kids.

At age 66 she had twins, becoming the world's oldest new mom — and raising questions about maternity so late in life. Now she is dead at age 69, leaving behind boys not yet 3.
Although I'm not surprised that stories like this "raise questions" about appropriate motherhood in our broader culture, it always catches me a bit off guard to hear vehement judgment passed on women for their choices. (If you read any of the
comments
on the story, or if you happened to catch
The View
yesterday morning, you know what I'm talking about.) There seems to be the general feeling that it's selfish or irresponsible for a woman to have children when there is a possibility that she will not live long enough to completely raise them. But there are a number of problems with using this rationale to support laws and policies that prohibit older women from seeking fertility treatment or becoming pregnant.
1. There's a double standard at work, here. When men die and leave behind small children, we generally don't blame them for fathering children at older ages, nor do we call them irresponsible for engaging in risky activities that may endanger their lives and cut short their time on earth with their offspring. (Instead, we usually just congratulate them on their virility.) The reason? As a society, we just don't hold men responsible for the physical or emotional work of childcare in the way we do women.
2. No matter how you look at it, prohibiting women of a certain age from pursuing their own reproductive decisions is inevitably
political
And I hate to use the fraught words "slippery slope", here, but passing judgment on some women really does open the door for all sorts of other restrictions on women's freedom. If there is to be a cut-off age for older women to be able to choose to have children, when should it be? Should it be based on average life expectancy for all women? Should race, region, or socioeconomic status be taken into account, even though these factors have been shown to have significant effects on life expectancy? Would having different standards for different women smack of uncomfortable -isms we would rather avoid, while not doing so would perhaps disadvantage women who are arguably better equipped live longer and raise their children? Why is age and not overall health the determining factor? Shouldn't women be given health screenings before they receive fertility treatment to make
sure
they're in tip top health (whatever that means) before they can proceed? And why stop at fertility treatments and in vitro fertilization? If it is so incredibly tragic and detrimental for young children to lose their mothers, why not prohibit older women from becoming pregnant on their own, as well? Why not enforce contraception for all female cancer patients? How about (re)enacting protectionist laws that keep women out of all sorts of dangerous situations that men are free to enter, just so that we can guarantee all children that their mothers will be kept safe from harm?
3. Life is unpredictable. Young mothers die, too. Bousada very well could have lived to be 101 years old, like her mother before her. The fact that she ended up passing away at the still rather early age of 66 does not prove anything.
4. Finally, and I hope I don't catch too much heat for this one, but since when is deciding to have children (at any age)
not
a selfish act? Generally, people become parents for totally self-interested reasons, but this selfishness only gets called out when people feel they have a reason to mount their high horses and act as if
their
parenting is pure and selfless because
they did it right
(in which "right" means "according to societal norms").
We need to trust women to make choices about their bodies and their lives. If IVF is going to be available to anyone, it should be available to everyone. When we blame and punish
doctors
for women's decisions, it infantilizes women by sending the message that they are unable to make intimate decisions for themselves and their families.