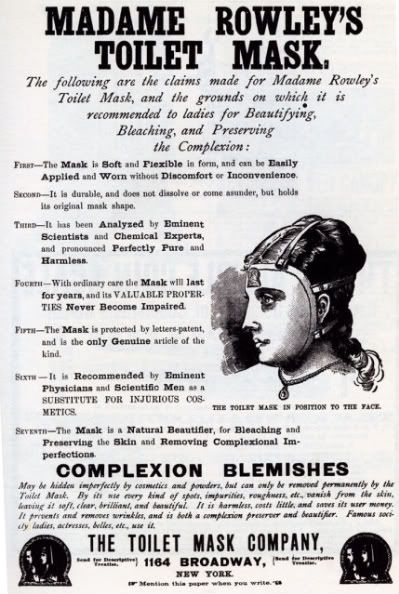 Text reads:
MADAME ROWLEY'S TOILET MASK.

The following are the claims made for Madame Rowley's Toilet Mask, and the grounds on which it is recommended to ladies for Beautifying, Bleaching, and Preserving the Complexion:

FIRST - The mask is Soft and Flexible in form, and can be Easily Applied and Worn without Discomfort or Inconvenience.

SECOND - It is durable, and does not dissolve or come asunder, but holds its original mask shape.

THIRD - It has been Analyzed by Eminent Scientists and Chemical Experts, and pronounced Perfectly Pure and Harmless.

FOURTH - With ordinary care the Mask will last for years, and its VALUABLE PROPERTIES Never Become Impaired.

FIFTH - The MASK is protected by letters-patent, and is the only Genuine article of the kind.

SIXTH - It is recommended by Eminent Physicians and Scientific Men as a SUBSTITUTE FOR INJURIOUS COSMETICS.

Seventh - The Mask is a Natural Beautifier, for Bleaching and Preserving the Skin and Removing Complexional Imperfections.

COMPLEXION BLEMISHES May be hidden imperfectly by cosmetics and powders, but can only be removed permanently by the Toilet Mask. By its use every kind of spots, impurities, roughness, etc., will vanish from the skin, leaving it soft, clear, brilliant, and beautiful. It is harmless, costs little, and saves its user money. It prevents and removes wrinkles, and is both a complexion preserver and beautifier. Famous society ladies, actresses, belles, etc., use it.
(
Via
)