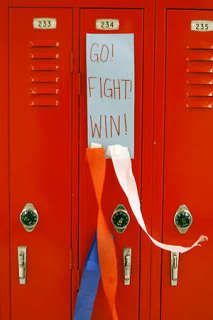 Not ever having been a cheerleader in middle school or high school, I don't relate to this one as personally as some of the other anti-feminist things from my younger days, but I was reminded recently by an old episode of
Freaks and Geeks
that, before every big football or basketball game, the cheerleaders at my school always showed up early on game-days in order to decorate the lockers of the (always male) players. And I always thought that kind of sucked for them.
Now, I realize that many people believe that cheerleaders exist for the sole purpose of feeding school spirit and boosting (always male) team morale, but everyone knows that cheerleading has evolved to the point that it's much more than that, and the teams usually compete in their own capacities in an environment completely separate from boys' sports. Even though cheerleading culture may not be something I can identify with personally, I understand that most cheerleaders don't do what they do just to make football players and their fans happy. (As a former marching band kid who
hated
football but liked competing against other bands, it's a feeling I can get behind.)
So
why
was it necessary for the girls in cheerleading to get up an hour earlier to come to school and adorn the lockers of players they may or may not have personally liked very much with crepe paper, balloons, and glittery nametags?
I'm not sure if this activity was required by the cheerleading coaches or if it had just become enough of a tradition that it was a social requirement, but I really do wonder how many of the players actually cared that it was done or if any of them ever saved and scrapbooked their glittery basketball-shaped nametags. I also never saw any football players decorating a cheerleader's locker the school day before a big competition. I'm just sayin'.
Does anyone know if this practice is still in place in schools?