Meet the
Househusbands of Hollywood
:
Fox Reality Channel tosses convention out the window with its groundbreaking new, one-hour, 10-episode original series, Househusbands of Hollywood, premiering Saturday, August 15th at 9p/8c. Cooking, cleaning, child rearing and the dynamics between real couples has never been this entertaining.

Five Hollywood men defy traditional marital roles by staying home to run the household while their wives head to work. It's a new family arrangement. Fox Reality Channel follows these men as they struggle to juggle day-to-day household duties while managing their egos.
What's interesting to me is that, despite the cultural perception that housewives (especially wealthy
celebrity
housewives) have it easy and do nothing but shop and socialize, it seems that this show is going to focus on ways these househusbands have it rough. You know, because housework and childcare must be such
drudgery
for men with fragile egos! How will they ever manage the psychological damage of doing degrading women's work?
Some of the marketing imagery on the
show's website
is even more intriguing. Take, for example, their "Househusband Survival Kit", which attempts to masculinize housework by associating it with shooting guns, driving sports cars, and playing Mr. Fix-It: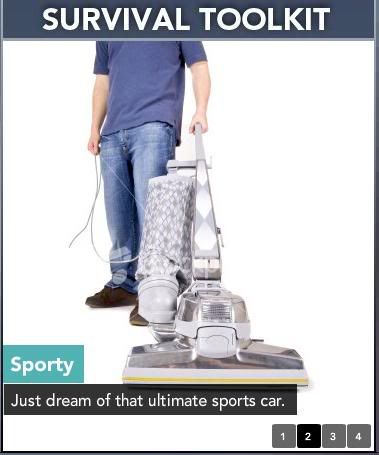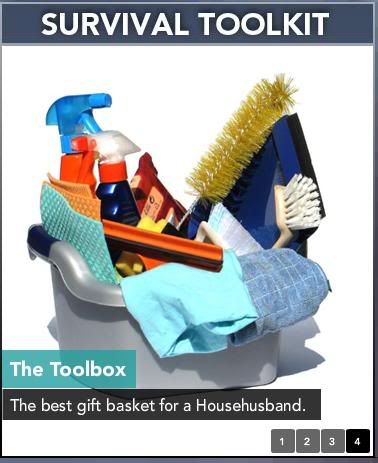 So, what do you think? Even despite the spotlight on "role reversals", is there any chance this show won't be a steaming pile of sexism? Does anyone even get the Fox Reality channel?