**SPOILER ALERT**
So, I saw
X-Men Origins: Wolverine
this weekend, and here's what I have to say about it:
-There's only 3 female characters with any lines, and only one with a role of any real significance.
-The aforementioned female character gets to be a classic hero movie murder victim. She is used shamelessly as a plot device to ignite Wolverine's feelings of vengeance. (We could call this antifeminist film cliche "The Braveheart Effect".)
-
As seen elsewhere
, the female mutants possess powers that are more passive or somehow more feminine than those of their male counterparts (like skin that shields bullets or seductive mind control).
-Apparently, I would have been prepared for this if I had ever read the comics, but there is a scene in the film that is all sorts of problematic from a fat acceptance standpoint. A character named "The Blob" provides, as Underwire puts it
in their review
of the film, "fat-suit comic relief". Ugh.
Despite all these problems, there was one really good thing about this movie.
Liev Schreiber
is in it, and while he's supposed to be playing the super scary and villainous part of Wolverine's brother, Victor, I can't watch
anything
he's in (including the Scream movies) without picturing him as the lovable Chris from the movie
Mixed Nuts
: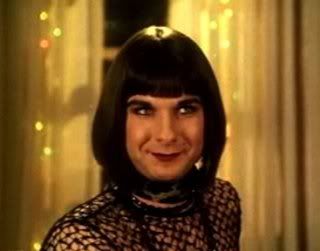 And thinking about that was enough to get me through this silly action movie.