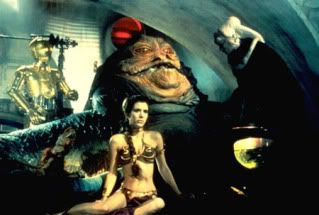 I loved Star Wars as a little kid. LOVED it. I can't remember a time when I didn't pretty much know all three of the original movies by heart. And I loved Princess Leia. She was so smart and cool and collected. I wanted to
be
her, even though I had a much bigger crush on Luke Skywalker than Han Solo, and I knew that being Princess Leia meant that our love could never be. I was even willing to settle for Harrison Ford if it meant I could be Carrie Fisher.
When I was really young,
Return of the Jedi
was my favorite. I know better now that I can appreciate the interesting darkness of
The Empire Strikes Back
, but I somehow found Ewoks irresistible as a pre-kindergartener. But watching Jedi inevitably made me feel pretty ambivalent as a little girl, because I had to watch my hero Princess Leia be sexually objectified as a slave on a chain in a weird metal bikini in Jabba the Hut's palace.
And I
hated
that damn metal bikini. I don't know how I felt about it when I was really little, but it was well before developing a feminist consciousness that I somehow developed an awareness that putting her in that outfit humiliated and
reduced
her in a way that only women can be humiliated and reduced. I hated that she had to suffer that humiliation and wait to be rescued by Luke and Han. It just reinforced the sexist idea that I'm sure I was getting elsewhere that women are always the victims and men are always their saviors. And the fact that she ended up strangling Jabba herself with her chains did little to mitigate the harm done. I totally resented that the movie did this to her, especially when I got older and began to realize how much of that scene was probably created solely for the titillation of a male audience. Because nothing gets horny Sci-Fi geeks off like bondage-themed sexual violence, right?