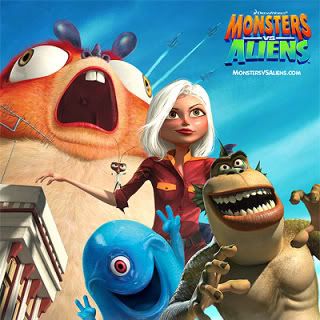 A few months back, Dan and I saw this trailer for the Dreamworks animated film
Monsters vs Aliens
:
Since I'm always complaining about the dearth of female characters in animated films, Dan leaned over to me during this trailer and whispered, "female protagonist!", but I have to admit that while I was intrigued by the idea of a female character who literally takes up space, I was highly skeptical of this skinny blonde bride who is grossed out by bugs and monsters, fumbling, and completely uninterested in being a hero.
We saw it tonight, and, believe it or not, it's a feminist film.
(From this point on, this post contains spoilers.)
It's not completely without its problems, but I was totally impressed to watch an animated film with a female hero who discovers for herself that she has no interest in living in a man's shadow and that she can do amazing things on her own.
First, the problems:
-Even though she is the main character, Susan is still the token girl in the film. The funny ensemble of monsters is, of course, all male, and even the love interest of one of the male monsters is played by an inanimate Jell-o mold.
-The treatment of female screams in the movie is totally problematic. First, a random woman in a room full of men is shown screaming at the top of her lungs at the sight of a series of photographs of monsters. After she is kicked out of the room by a hypermasculine, militarized character, we hear the scream again at the sight of the next monster, and it is revealed that the scream came from the (male) president of the United States. While this may seem funny at face value, it's actually a cheap laugh at the feminization of a male character -- a joke that only works in a culture that is dismissive of women. Later, after the monsters collectively save the world from impending doom, three women utter the same scream at the sight of one of the monsters, only to rush into his arms and cover him with kisses -- an annoying twist on the stereotype of the adoring fan-girl who is wildly attracted to the male hero.
-At one point, after Susan does most of the work in defeating an alien robot probe, one of the monsters makes fun of another monster for having been shown up by a girl. This type of comment is so run-of-the-mill in movies with strong female characters, but I hate how it always serves as a reminder that the female hero is the exception rather than the rule.
-After being captured by the aliens, Susan wakes up on the spaceship dressed in a new, skin-tight, spandex outfit. WTF?
These shortcomings aside, I loved this movie. Despite her original role as a bride and her initial fear of the creepy-crawly monsters, Susan is a totally kickass hero. She's giant with superhuman strength, and once she discovers her power, she does what any male superhero would do with it -- she
uses
it. She pursues adventure, fearlessly chases down bad guys, rescues civilians, saves her friends, and realizes that she doesn't need a man to take care of her. The whole time I was watching, I truly couldn't believe I was actually witnessing such positive, feminist messages in an animated film. I'm excited for every young girl who gets to see it, and I can't wait for writers to go see this and witness how female heroes are done successfully.
Go see it.