Flipping through the Bed Bath and Beyond ad I got in the mail this week, I was surprised to see that the store is recognizing female inventors and sponsoring a contest for women to submit their ideas for inventions:
In celebration of the 200th anniversary of the first patent awarded to a woman, we have partnered with Edison Nation to search for problem-solving product ideas from women across the nation. These could include products for any room in your home – products that make life easier, more comfortable, convenient, cleaner or better organized.
Although I think that it's a
little
bothersome that they are only soliciting women for ideas for products that are domestic in nature, those
are
the types of products sold by Bed Bath and Beyond in the first place, and I'm totally encouraged by the recognition of the first patent awarded to a woman, as well as this little retrospective of inventions by women they included in the ad and
on their website
: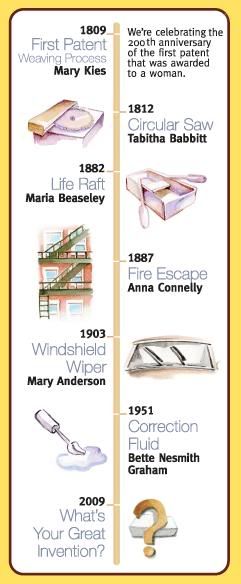 Neat, right? I honestly had no idea that any of those things were invented by women. According to their website, the contest runs through April 30, 2009.