In the screengrab below, look past Mr. T's shoulder at the fuzzy little couple I've circled for your viewing convenience. You're looking at me and Dan.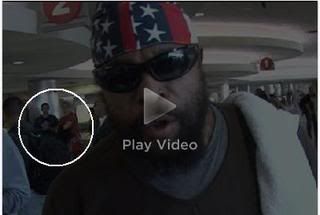 That's right. Mr. T was on our connecting flight from Chicago to LA a couple of weeks ago, and even though he was far ahead of us in first class during the plane ride, he came to baggage claim just like everyone else to wait for his luggage. We had no idea why he was being interviewed by someone with a camera until we happened to be flipping through the channels at the hotel and see him (and OURSELVES) on TMZ.
The TMZ guy was interviewing him about
the commercial I blogged about
back in July, and even though he fails to really say anything interesting about it in the clip, you still may want to watch
my
television appearance.
The video can be found here
. I'm riveting as The Girl in the Red T-Shirt.