Meet Prince Chunk: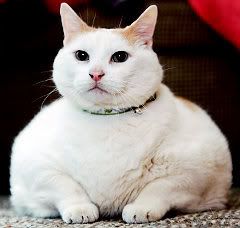 Well, actually, the 44-pound cat's original owner named him Powder, but when she had to give him to an animal shelter after the foreclosure of her home, someone (in either the shelter or the media) decided to re-name him Chunk. Delightful.
And since the
woman
who lost her home and had to give up her pet is hardly newsworthy, the media has been focused on the spectacle of her giant cat and on finding out which of the 500 or so families who applied to adopt him will win out. (A New Jersey family has been selected, by the way, and they will remain anonymous to avoid the press.)
This story is just bursting with class issues. There's something so heartbreaking about Donna Oklanter losing her house, having to put her husband in a retirement home, moving in with friends, and having to watch the cat she gave up
appear on Regis and Kelly
and
Good Morning America
accompanied by a "foster" parent from the shelter.
I'm about to get to the Fat Acceptance part, but I'm going to put in my two cents and say that if Powder's new owners
really
had hearts, they would get in touch with Donna Oklanter and let her know she can have her cat back as soon as she is ready for him and that she can visit him anytime she wants.
*dismounts one soapbox and climbs up onto a different one*
Powder/Prince Chunk/Whatever-You-Want-to-Call-Him is in the news because of his size, which is apparently a couple of pounds shy of the world record weight for a tabby. And,
obviously
, since the world thinks that FAT = UNHEALTHY, the coverage is filled with concerns about his health. His original owner suspected a thyroid condition, and one article speculated about how his new owners may be burdened with giving him insulin shots if he's diabetic. After a complete health inspection, however, SURPRISE!
The cat is completely healthy.
Apparently, no one involved in this entire story has ever heard of
Health at Every Size.
Despite his perfect health, he's been put on a diet and an exercise regimen to make him lose weight. Because losing weight is the most important thing ever. Even for cats.