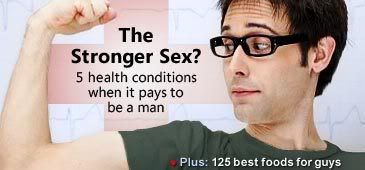 Nobody likes to polarize the sexes more than the fluffy "news" features at msn.com (as seen
here
and
here
), so leave it to them to dumb-ify an otherwise interesting article about health problems that are more likely to affect women than men by slapping it with this title:
Men: The Stronger Sex?
Need I even explain why it's condescendingly sexist to lightheartedly imply that the reason more women than men are plagued with issues like eating disorders and depression is that we're just weaker than men are?
Assholes.