As I work on trying to get into grad school, my not-very-high-paying-but-nonetheless-cushy-pay-the-rent job involves sitting in a security office and monitoring surveillance cameras during mostly uneventful evenings. The beauty of this is that I have time to do things like study, catch up on my blog reader, and read books while I'm at work. And since yarn was on sale last week at Jo-Ann's, I stocked up and excitedly started making scarves for all of my friends for Christmas. (I'm one of those freaks who is nearly always finished with gift-making and shopping months in advance.) So, needing something to do while I knit for hours and hours at work, I decided to bring the laptop with me and embark on a journey of watching and/or rewatching some of my favorite films about women. And that got me thinking that I should post about these movies as I watch them.
Last night was the first of the series, and I chose
The Color
Purple
.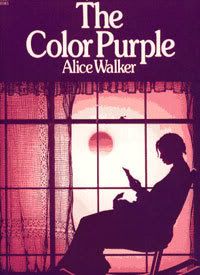 This film is so heartwrenching and beautiful that I seriously cannot watch it without sobbing. Based on the book by Alice Walker and directed by Steven Speilberg, the 1985 film adaptation was Whoopi Goldberg's film debut, and it won several awards. I know that Walker received some criticism for her portrayal of some characters and for a controversial kiss between two female characters (which she responds to in her wonderful essay
In the Closet of the Soul
*), but I think this book and film are so incredibly important for casting some mainstream light on the intersection of racism and sexism in early twentieth century America.
The book has been on my reading list for years, but I think it's time for me to bump it to the top of the list. I have a renewed desire to read it and catch any parts that got left out of the movie. And since books are almost always better than movies based on them, I need to know what I've been missing.
*This essay can be found in
Words of Fire: An Anthology of African-American Feminist Thought
, ed. Beverly Guy-Sheftall.