I was disappointed when I saw this
sexism-filled letter
of rejection to a would-be female Disney animator at Feministing. But my spirits were lifted a little when my boyfriend (an animator himself) sent me
this photo gallery link
to show me that Disney did, in fact, employ female animators, and so did other companies. It seems like if Disney was regressive and clueless when that letter was written in 1938, at least they were doing slightly better by the 1940s. I find it totally inspiring to see these pictures of talented women at work, so I wanted to re-post them here. With the exception of Tissa David, all of the captions come from the gallery page.
"Retta Scott, Disney Studio, 1940's . She animated on Bambi, Fantasia, Dumbo, Wind in the Willows , later on did storybook illustrations for Disney's publications. The first woman given screen credit as an animator at Disney's ."
"Mary Blair at work at the Disney Studios , c. 1941"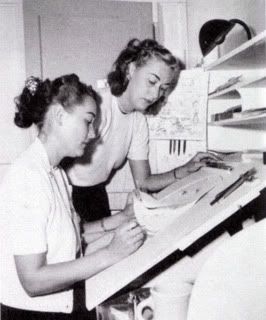 "Marilyn and Madilyn Woods, Warner Bros. Animation, 1940's."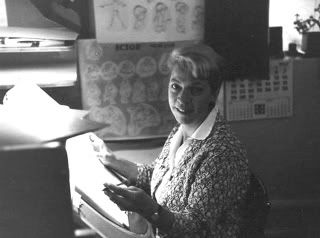 "Retta Davidson, working on "The Sword & The Stone" at Disney's in the early 60's ... left Disney in the late 60's , but later returned to help train a new generation of animators on "The Black Cauldron" in the late 70's , early 80's era at Disney."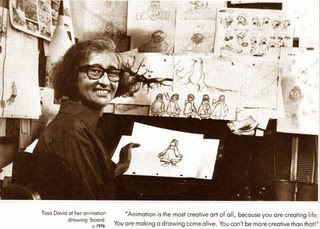 Tissa David
From animationguild.org: "She was a lead animator on Raggedy Ann in 1977."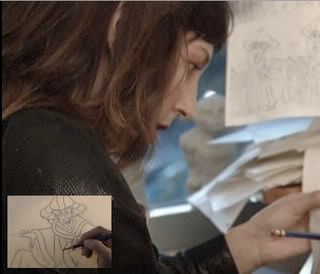 "Kathy Zielenski, animating Frollo, Hunchback of Notre Dame, Disney's 1996"