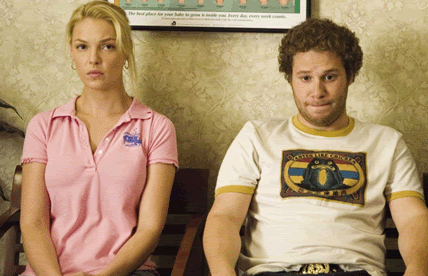 So, I saw
Knocked Up
last night. It was bursting at the seams with feminist issues, but there's just one joke in the movie I want to call out. There's a part in the movie where a wife interrupts her husband while he's with a group of his male friends and demands to speak with him alone. As he is leaving the room to go speak with her, one of his buddies yells out:
"Don't let the door hit you in the vagina on the way out."
Oh, I get it! It's funny, because having a vagina means being a woman. And being called a woman is an intolerable insult. Nobody wants to be a woman! Especially a husband -- a man who should be "wearing the pants" in the family.
He
should be telling
her
what to do! Not the other way around! Ha! *knee-slap*
If only I had a nickel for every time I've heard a male insult another male by calling him female. In a culture where women are socialized to be and to be seen as weaker, saying he's doing something "like a girl" or simply calling him a "pussy" is the best way to cut a man down to size. I was disappointed with the joke, but I can't say it surprised me. Art reflects life. And I suppose art cannot be free of misogyny as long as life is downright full of it.