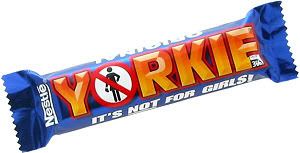 Months ago, I heard about Nestle's Yorkie: a big, hearty chocolate bar, sold almost exclusively in the UK, that uses the ad slogan, "It's Not for Girls". Weeks ago, I happened to see one up close at my local
World Market
store. And just days ago, my friend Katie came to visit from her home in New York City, and she brought with her a just-purchased Yorkie bar, knowing it was something she couldn't resist showing me. So, since it was already in our possession, I just had to see what all of the fuss was about.
We studied the wrapper for its ingredients and any other writing, looking to find any information as to why it should not be consumed by females. We tore it open, we each snapped off a square, and, knowingly engaging in an activity expressly discouraged by the wrapper, we ate it.
And you know what? Nothing happened. No British police came out to arrest or even chastise us for our transgression. And, to our disappointment, it was just plain, old chocolate. The only thing we could figure was that they decided to market it to men simply because it's bigger than your typical chocolate bar, with almost twice the fat and calories. And, as you know, men are the only ones who are given the advertising message that they are entitled to enjoy large amounts of rich and hearty food without being made to feel that it is a special treat. Advertising aimed at women usually encourages us to "be good" or to "be bad" with the foods we choose, making sure we know that eating something in a large quantity or eating something especially unhealthy is an unladylike indulgence. A guilty pleasure.
At any rate, a little research on the Yorkie bar yielded these results: (From the
Yorkie page
on the Nestle UK site)
Yorkie was launched in 1976 to take on brands such as Cadbury's Dairy Milk and provide a chunkier alternative to the slimmed down Dairy Milk bars.

Names originally under consideration for Yorkie included "O'Hara", "Trek" and "Rations".

Within two years of its launch, Yorkie topped 13 thousand tonnes and became firmly established as a big, solid, chunky eat, uniquely for men. Advertising reflected this with macho imagery - lorry drivers who take it one chunk at a time.
Now have a look at an old classic Yorkie TV commercial:
Apparently, in response to the idea embedded in pop culture that chocolate is a sweet that is craved and obsessed over by women, Nestle decided to breathe new life into the Yorkie bar by "reclaiming" chocolate for men.
A more recent Yorkie commercial:
The website explains:
In 2001 the Yorkie "It's Not for Girls" campaign was launched because, in today's society, there aren't many things that a man can look at and say that's for him.
Amnesty International estimates that only 1 percent of the world's wealth is owned by women, and that women make up 70 percent of the world's poor. Only ten of the 500 largest corporations in the world are run by women, and women make up only just under 17 percent of the world's politicians, and this number is a record high. But Nestle is right. Men have been dealt a bad hand. There just aren't many things they can look at and say that's for them. It makes perfect sense that they should have their own chocolate bar.